Wicked Wednesday Workouts
A wicked problem is a complex social or cultural problem that can't be solved using traditional thinking and policies. The most valuable companies (and employees) of the future will be the ones solving some of humanity's biggest problems.
The Challenge
Our days are filled with negative news and information. Sadly, technology use is making us less creative and more socially disconnected and isolated (from real people and real relationships). Automation, digitisation and artificial intelligence are eliminating routine tasks with change occurring at a relentless pace.
Our Solution
We want to help change the world with you, while you also build and develop skills you will need in the Roaring 2020s – such as creativity, agility, problem-solving, teamwork, social and emotional intelligence, grit, communication, optimism, experiential learning and more. After choosing an affirmative topic, we spend around 2 hours tackling a wicked problem using a 4-stage strengths-based change management process, known as appreciative inquiry.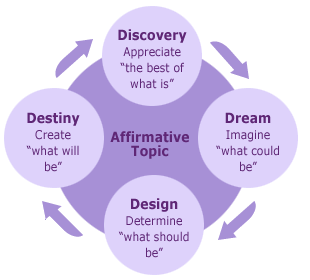 We do this in a psychologically safe environment with other passionate and purposeful people committed to making the world a better place. We draw on your range of collective strengths, knowledge, skills and experiences to find creative and innovative options to address problems. The group then decides how the outcomes are taken into the real world (ie. liaise with companies, not-for-profits, social enterprises, associations, government, etc) or remain a purely theoretical exercise. In addition to meeting some inspiring colleagues and building a strong network of high quality connections, you can help make positive social impacts of change on the world.
Get involved
Register your interest and let us know any areas you are passionate about improving to make the world a better place to live. We'll arrange a time to meet up in Melbourne and Sydney (and possibly remotely). If you can host us at your workplace during lunchtime or after hours, please also let us know.
Note – due to the Covid-19 outbreak-related physical distancing, Wicked Wednesday Workouts have been suspended until further notice. Please register your interest and we will be in touch once physical isolation bans have been lifted.
Register for Wicked
Wednesday Workouts